Robot HORST
6-Axis Industrial Robot - Industry 4.0 MADE IN GERMANY
The robot for medium-sized businesses
Flexible to use, precise and economical
HORST stands for Highly-Optimized-Robotic-Systems-Technology and combines the advantages of conventional industrial robots and cobots.
The robot system is suitable for complex applications due to the six degrees of freedom, but at the same time it is convenient to operate, handle, program and use.
HORST is particularly suitable for small and medium-sized companies due to its attractive price-performance ratio and enables a low-cost entry into process automation with robots.
The robots can be used flexibly, require little space due to their small footprint, operate with precise positioning, can be programmed quickly and are thus ready for operation in a short time.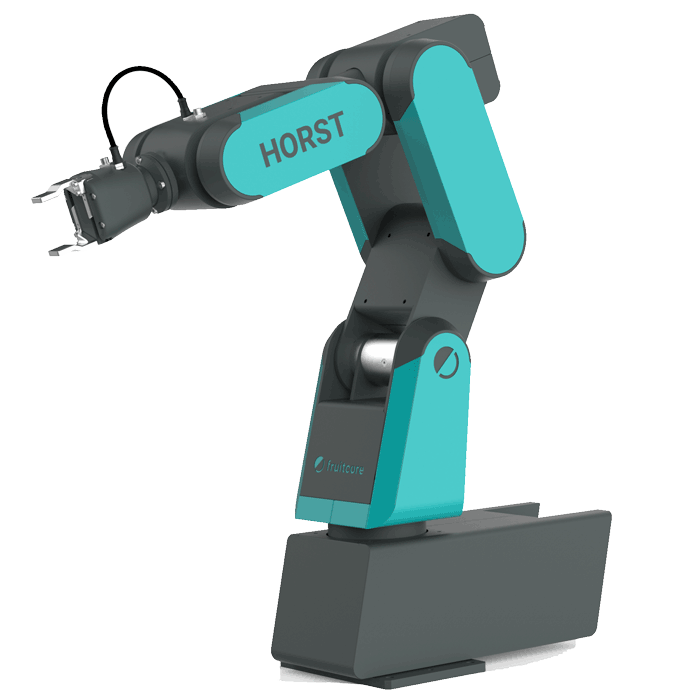 Variants
The robot is available in the HORST600, HORST900 and HORST1400 versions
HORST600 (Article no. NA0001):
Nominal load: 2 kg (max. load capacity 3 kg)
Repeat accuracy: ± 0,05 mm
Dead weight: approx. 29 kg
The low dead weight and small footprint make this type a flexible robot for small applications. Floor, ceiling and wall mounting are possible as installation positions here. In addition, a laboratory version (HORST600-lab) for the pharmaceutical and chemical industries and a variant with higher axis speeds ("HORST600-fast") are available.
HORST900 (Article no. NA0002):
Nominal load: 3 kg (max. load capacity 5 kg)
Repeat accuracy: ± 0,05 mm
Dead weight: approx. 50 kg
The hybrid kinematics based on several four-bar chains enables great maneuverability and an optimal ratio of reach and payload.
HORST1400 (Article no. NA0003):
Nominal load: 7 kg (max. load capacity 10 kg)
Repeat accuracy: ± 0,1 mm
Dead weight: approx. 75 kg
As with the HORST900, the kinematics are based on several four-bar chains. However, HORST1400 is the stronger robot with the longer reach.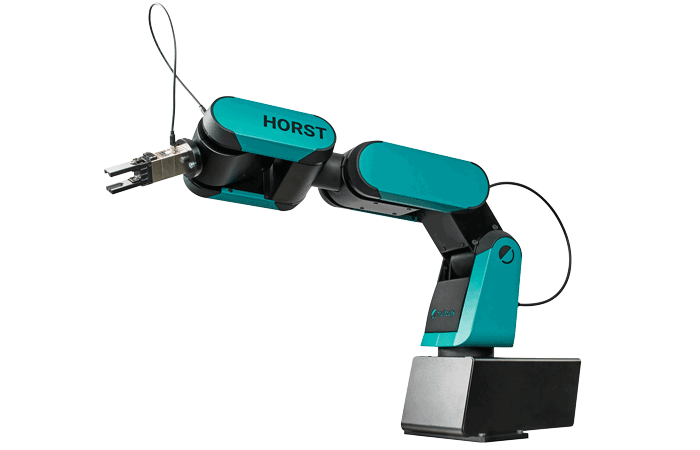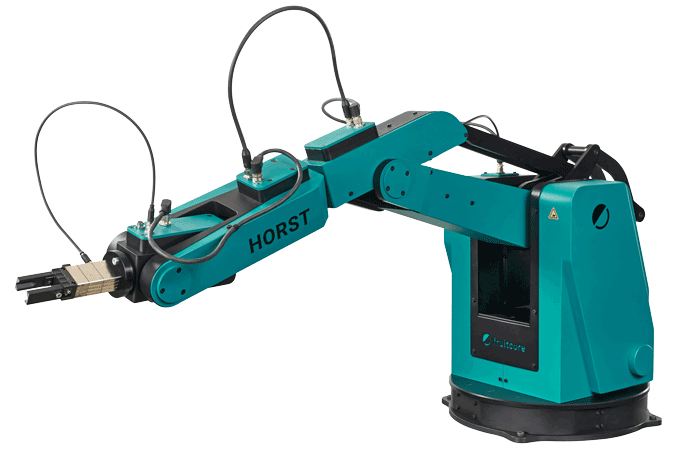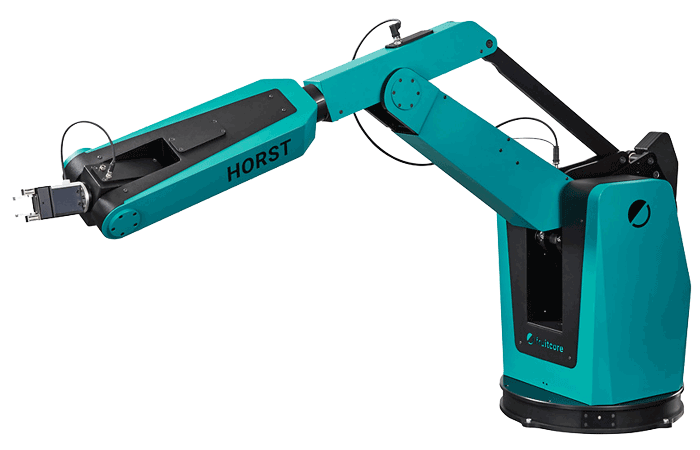 Application areas
Automation solution for injection molding process
The HORST robot system is suitable for inserting and removing parts, transporting them away via conveyor belts, sorting and palletizing components, and inspecting workpieces.
Depending on the requirements, process, layout design, machine size and component, users can choose from one of three sizes, which can be placed in front of, behind, to the side of or, in the case of the HORST600 type, on top of the injection molding machine for component removal if required.
Especially for small batch sizes and frequent setups, fast changeover times and flexible automation solutions can be implemented with HORST.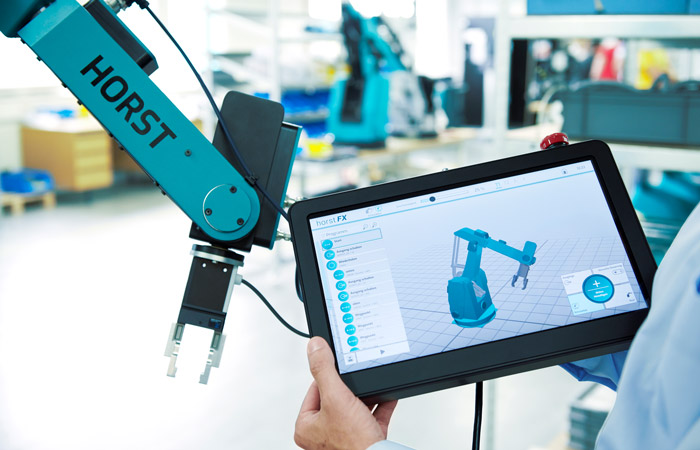 Operation
Intuitive programming with horstFX
The robot is operated by means of a 13.3" touch screen. The horstCONTROL control cabinet is used to connect and communicate with external machines.
The robot can be programmed graphically or textually using the horstFX software. In the case of graphical programming, the user interface and menu navigation make programming easier. horstFX is intuitively designed and can therefore be learned and implemented quickly. Programming can be done directly on the robot's touchpad or on the desktop version on a PC.
horstFX enables more complex applications in advanced mode if needed. Here you can configure all process parameters with JavaScript - detached from the graphical programming interface. Graphically generated programs are automatically converted into textual codes. This allows you to adjust details directly in the source code and program sophisticated applications efficiently.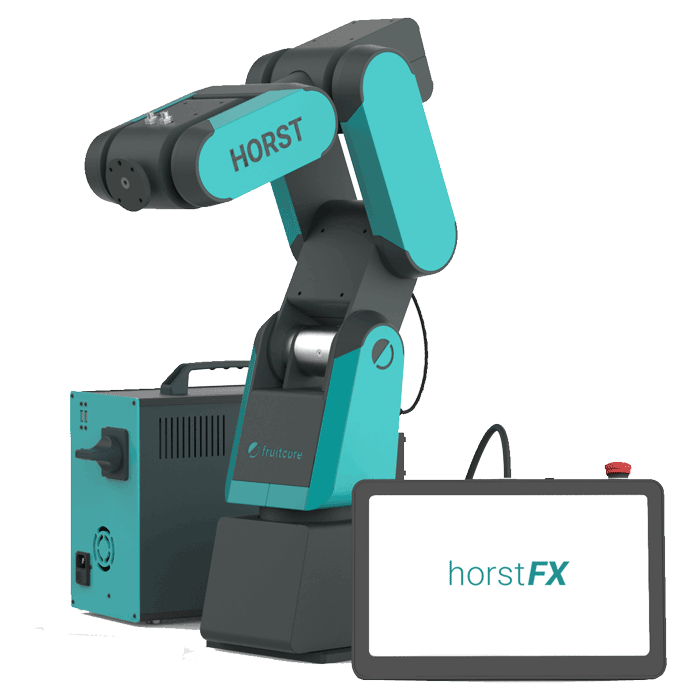 Scope of delivery and accessories
The robot can be supplied together with the suitable gripper system
The scope of delivery of the robot system includes the 6-axis industrial robot in one of the three variants, the switch cabinet horstCONTROL including safety controller as central control unit, the software for programming horstFX and the robot operating panel with corresponding holder.
We support you in the project planning of your automation project, the initial commissioning of the robot and also offer the programming as a service.
Optional accessories, effectors as well as
vacuum gripper systems
in lightweight plastic are available as accessories and enable the simple and fast realization of individual automation solutions.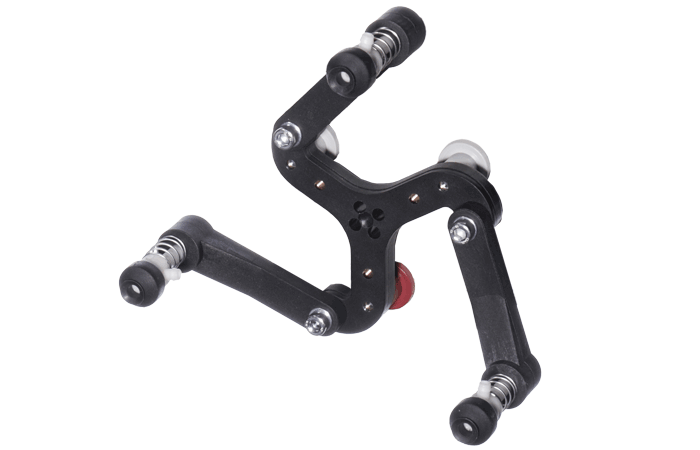 CONTACT US NOW
Automate your production with the HORST robot system