Leakage test
Detect leaks early and avoid expensive production losses and downtimes.
Avoid leakages
The leakage test is used in new tool making as well as during the tool life cycle.
Application in new tool making:
Quality assurance of individual assembly steps
Application in the tool life cycle:
Integration of the leak test into the standard maintenance cycle
Ideally, tools are always checked after production has been completed and before they are put into storage
At the latest, however, before the next renewed set-up process for a stable production process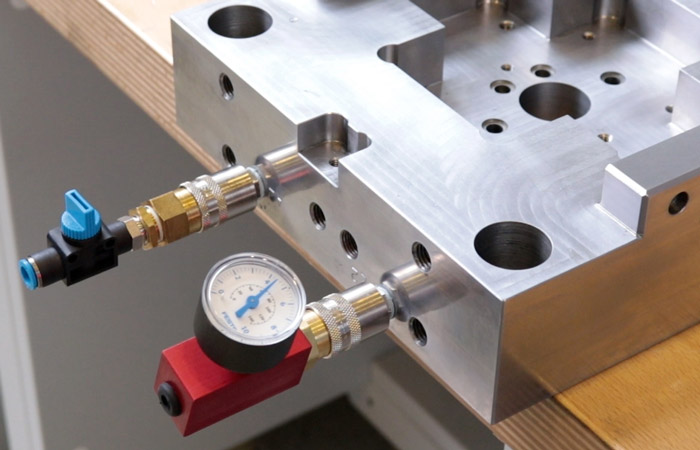 Product properties
Efficient testing with compressed air in just a few minutes.
Test medium: compressed air, 3 - 4 bar are sufficient
Testing time: approx. 60 seconds (per circuit)
Tightness of the system can be directly read off the pressure gauge
Only compressed air connection with conventional compressed air pistol required
Easy application due to integrated quick coupling
Reliable test results ensured by self-testing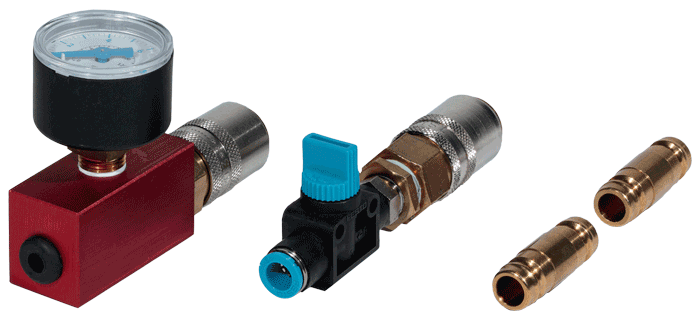 Easy handling
Safe, clean and fast.
Plug the air intake side to the channel input
Connect the drain side to the channel output
Build up test pressure with compressed air pistol
Pressure of 3 -4 bar is sufficient
Observe the pressure value at the manometer. Pressure drop = there are leaks
Test time per channel is approx. 60 seconds
To end the test, open the valve on the discharge side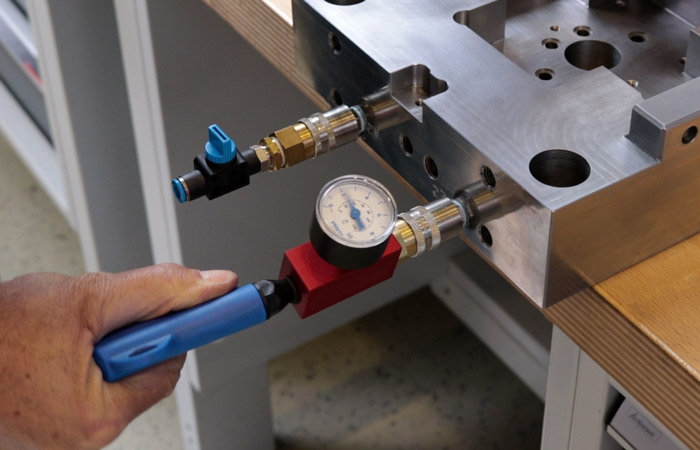 Versions and scope of delivery
Delivery in a practical wooden box.
Product versions:
Nominal diameter: 6mm (article no. FL46500) or 9mm (FL46501)
Other profiles available on request
scope of delivery:
1x inlet side with pressure gauge
2x double nipples (for hose testing)
1x operating instructions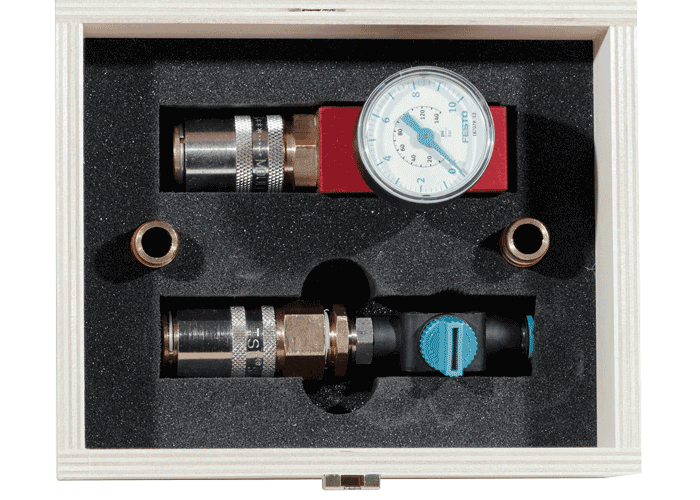 FREQUENTLY ASKED QUESTIONS
The FAQ's for leakage testing
How high should the test pressure be?
A maximum of 4 bar is sufficient for reliable testing with compressed air.
How long is the testing time?
The larger the volume of the circuit to be tested, the longer the test cycle should be. For 120 cm³ volume, a test time of approx. 60 seconds is sufficient. As a reference value: 120 cm³ volume corresponds approximately to a 4-cavity tool with mould inserts 130 mm x 130 mm and conventional 8 mm holes on one level.
Why is testing with compressed air?
Testing by means of compressed air is cleaner and faster than previous testing methods using the water pump. Air has a 20 times lower viscosity than warm water (80°C). Therefore longer test times are no longer meaningful. The higher viscosity of air would indicate leaks which, if tested with water, are tight.
How does self examination work?
In order to check the unit for leaks from time to time or if necessary, simply connect the inlet and outlet sides using the double nipples supplied. Close the valve and blow in compressed air. Due to the small air volume, a test duration of approx. 30 seconds is sufficient. This ensures that you always have a functional product and reliable test results.
For which connections is the test device suitable?
The integrated quick couplings make the device easy to use for all common profiles. You can obtain the testing device from us suitable for your required coupling series in different nominal widths. Even tools with multi-couplings can be tested. Simply connect one channel at the input and output with the tester and bridge the other channels one below the other. Then the tightness test can be carried out in the same way as for the mono-couplings.
CONTACT US NOW
Ensure a stable production process in your injection moulding shop.
Consultant Plastic Injection Molding/Mold Making/Project Planning
+49(0)7181/4087-217
+49(0)7181/45351
+49(0)152/09 01 11 63
j.schwegler@nonnenmann-gmbh.de